Food production shop with the installation of refrigerators and reconstruction of the administrative building
Industrial + Transportation buildings
Information
Total area of the territory: ~ 2 200,00 m2;
total area of the building ~ 1 800,00 m2;
construction volume: ~ 13 700,00 m3;
total production area: ~ 1 060,00 m2;
total administrative area: ~ 750,00 m2;
number of floors: 3 (three) and one (1) floors, including basement.
Team of authors
Chief Architect – G.S. Anorov,
Architects – N.Sh. Sodikov, D. Isfandiyeri D.
3d-vizualizatsya - Sodikov N. Sh
Design Engineer - Shermatov S. A
Chronology
Design: 2013-2014;
Construction: 2014-2016 (under construction);
Exploitation: -;
Address
Client: Private person A. Shodiev;
Address: 6/1 Abdulloeva Street, Dushanbe city;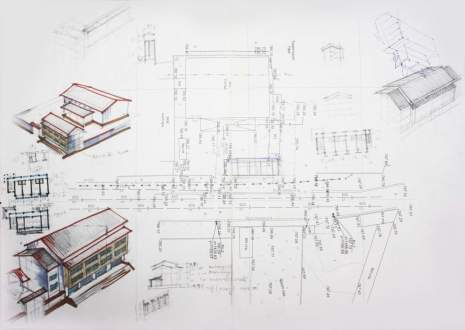 Description
On the territory of the design object it was stipulated to construct under the project the food production shop with the installation of refrigerators and administrative building. The designed site is located on the western part of Dushanbe. According to the zoning of Dushanbe this territory is the production and storage area. The purpose and functionality of the territory and buildings were kept under the project.

Food production shop was designed as one storey building. In planning terms it has size of 36,0x32,0 m. Buildings in planning terms is divided into three separate units, one of which is the refrigeration unit (the unit). Two others – food production shop. The administrative building is designed as a three-story building with size of 8,40x20,60 m. Functionally, each floor of the administrative building is divided into the appropriate destination. According to the project the first floor is designed as a public dining room with ancillary facilities and a shop. The second floor is designed as a hotel and the third floor - administrative floor.

The volume of both building is decided according to the buildings purpose. Architecture is accepted in a minimalist style.